How to Order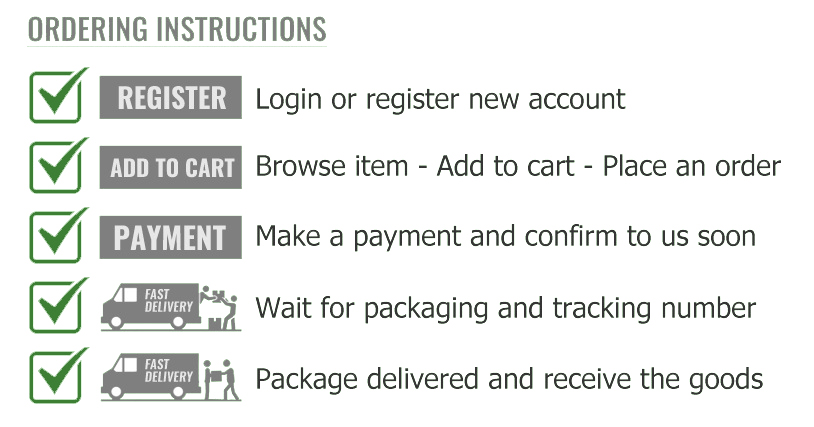 1. To place an order, please register first at "Register" menu on our website.
2. Please fill the blank form with the complete information. Then please to choose the product you want by clicking the "add to cart" button. To continue order, please click " My cart" in Right top column on our website.
3. Please fill your complete address for shipping purpose. Then, choose the shipping method you want, and next please to choose the system payment you want. And the last, please fill the comment box if there is any important about the product. And to finish it, please click "confirm your order" and one more thing, in our company can only make delivery package for the purchase price above $ 2000. It's as simple as that!
4. We will response and process your purchase order as soon as possible by giving you the invoice and payment information according you purchase order. And please make the payment after we send the status of your purchases to be confirmed or please make a payment if you have received the invoice from us.
5. For administrative completeness of our company, please confirm to us your payment by giving scanned/screnshoot/copy/photo of your payment proof if you have made a payment, so we can confirm it to our administration staff. And then we will immediately process your order shipping by giving you the tracking number from the shipping company. And the tracking number will given at least 2-3 days after payment is made.
We will cancel your purchase order if there is no actions from you about payment at least 3 days after the invoice has been given to you.
If you any questions, please contact us at our email : order@harisefendi.com / complainsales@harisefendi.com